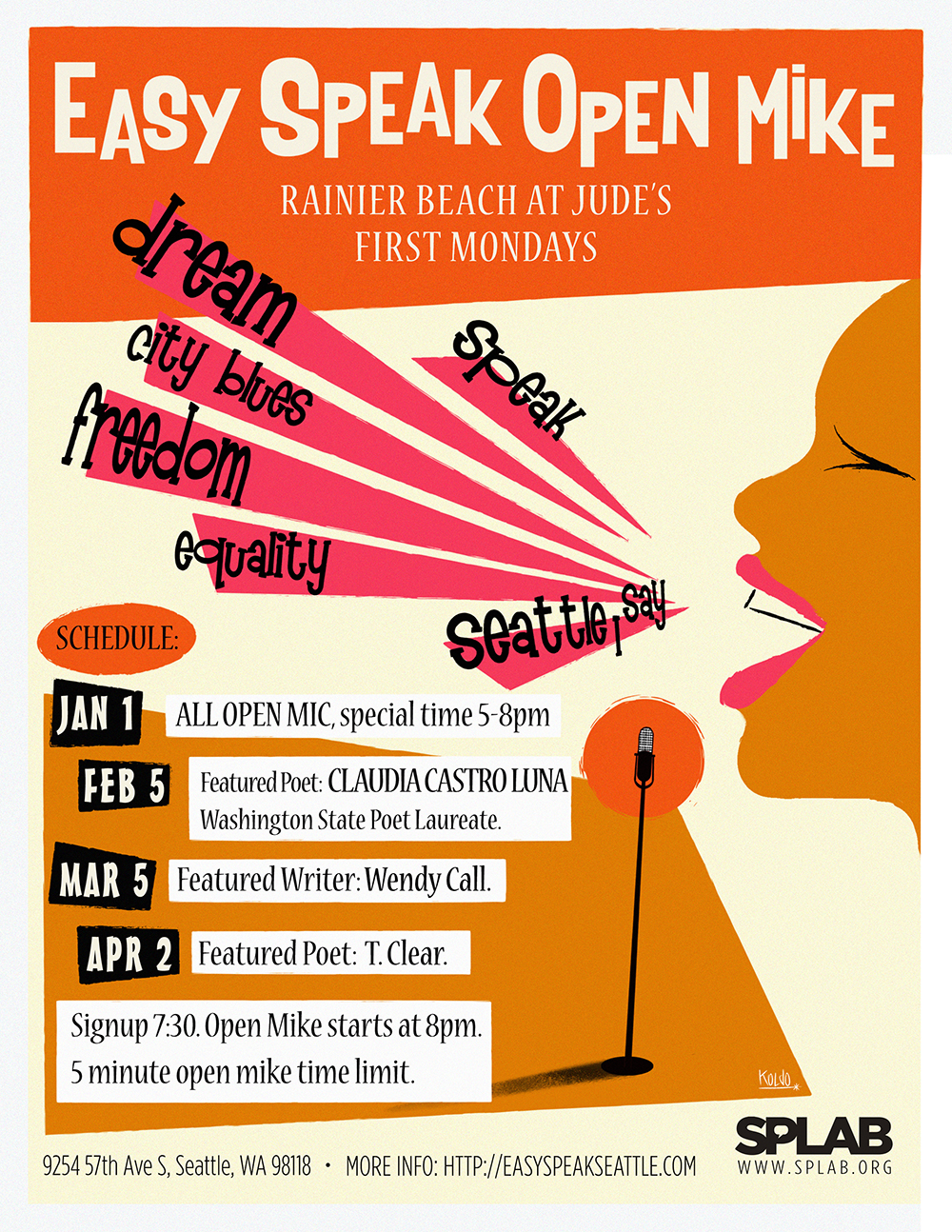 I've been happy to work in this comission for Easy Speak and Spablab, the project of my poet friend Paul Nelson.
I met Paul at Lake Chad Cafe during my neighborhood Jackson St. Jazz Walk. It was a concert of Seattle's Jazz band Jim O'Halloran's World Jam. The level of improvisation of bassist Farki Dosumov, drummer Royce Shorter Jr. and my friend keyboardist Marina Albero. This is what I wrote that day in my personal Journal:
"The place is crowded with people, we hardly find a spot to sit in. The atmosphere is effervescent. The improvisional performance is spectacular, because of it's vibrant energy and spontaneity. This is quite difficult to find in live Jazz music today. Bossa, Free Jazz … very vivid and fun. Marina is an artist with such incredible strength, and a top musician. The scene is hypnotic: a teenage couple dancing by the band in a Beatnik fashion. I am happy."
Suddenly, this guy sitting next to me who was carrying a ball full of Jazz books, got up and stood by the microphone to read his thrilling poem dedicated to one of my favorite Jazz saxophonists: Roland Kirk. The poet was Paul Nelson. A few minutes later we chatted, we later became friends and he told me about SPLAB.
SPLAB is an intergenerational spokenword center dedicated to Poetry and Story-telling. They work in creating an environment by encouraging writers to develop their individual writing practices.
If you are in Seattle and want to hear words about equality, consciousness and freedom, check out their events: http://splab.org